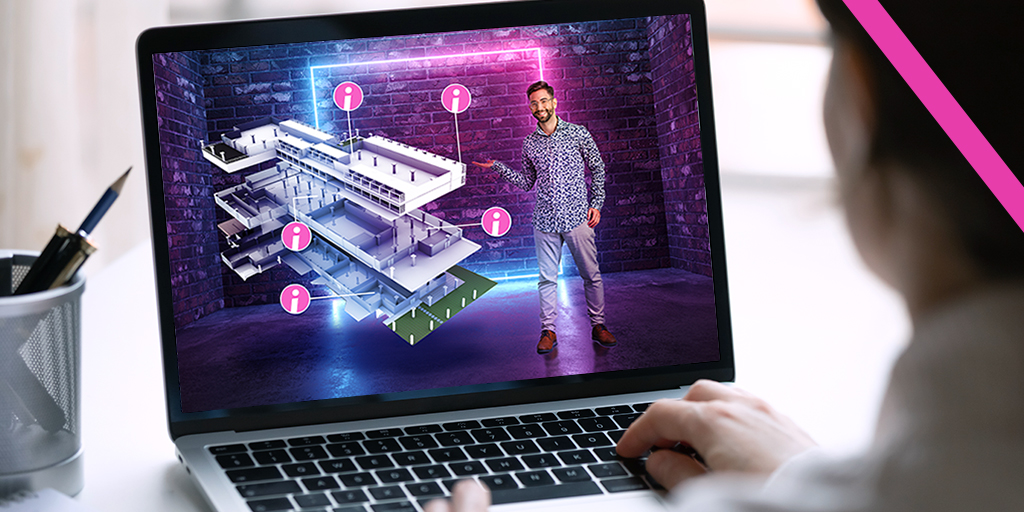 The events of 2020 accelerated cross-discipline digital transformation within an array of business landscapes, necessitating marketplace changes likely to instill lasting behavioral norms for buyers and sellers alike.
With a temporary and, in some cases, permanent shift toward remote workforces, tradeshow and event marketing in particular have seen a massive shift to the virtual realm. Leaving marketers to answer a key directive: "How do we effectively promote virtual events to drive attendance and impact revenue?"
This White Paper will detail the proven strategy for successful virtual event marketing promotion Ledger Bennett deploy to provide your business a reliable pathway to measurable results.
What Are Virtual Events & Do They Work?
Effective virtual events can take shape in various formats. These can vary from single-topic live webinar series, to full-day events will parallel tracks, to virtual tradeshows complete with exhibit halls, networking space, keynote & breakout speakers, just to name a few.
No one format is better than another and what works for you will depend highly on your business, the market within which you operate as well as your budget.
Whichever format you choose, when properly executed and correctly promoted, virtual events are a great way to achieve on KPIs from brand awareness to attributable revenue impact and everything in between.
The In-Person vs. Virtual Event Experience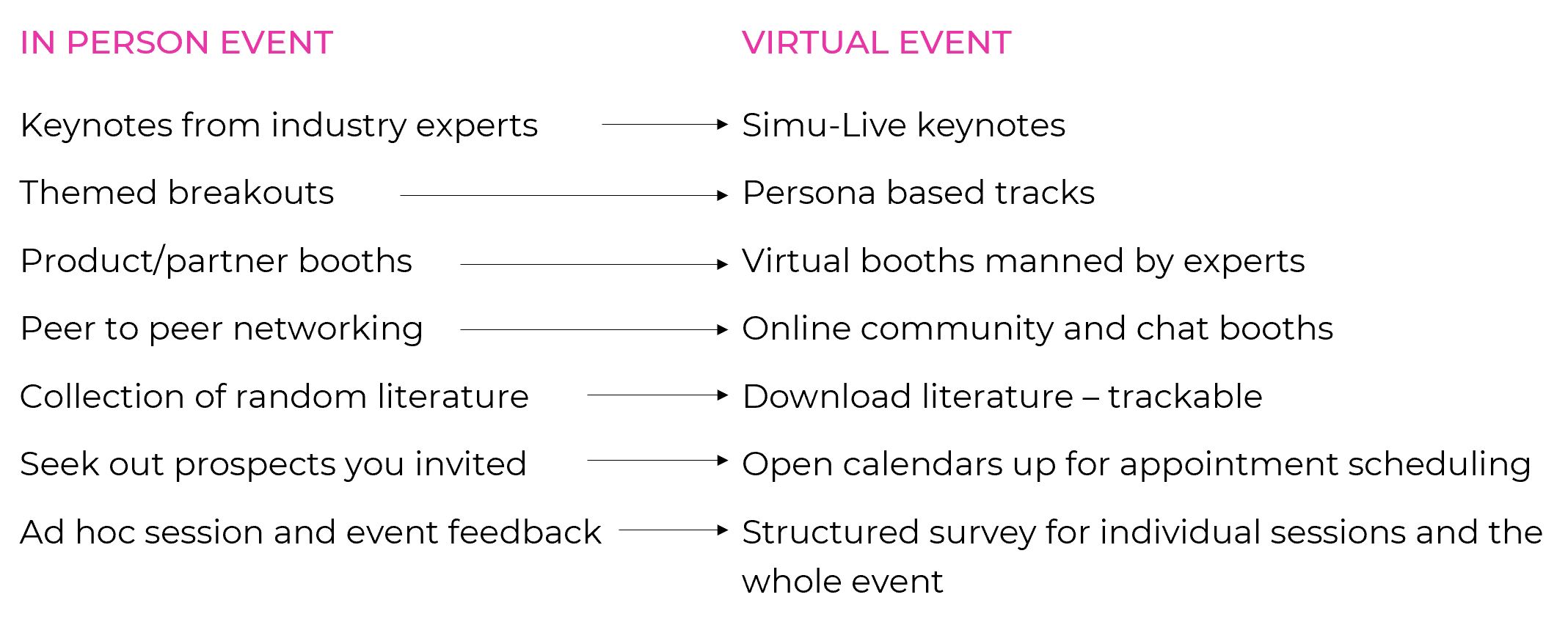 Measuring Virtual Event Effectiveness
As with any investment, virtual event targets should always be aligned with a larger business goal or goals. You may be optimizing for things like Ideal Customer Prospect (ICP) awareness, registrations, attributable closed new business or some combination of these and other goals.
Generally speaking, the following metrics are useful starting points to use when crafting target objectives:
1) Event Awareness – A successfully executed virtual event marketing program will naturally raise awareness among your target market about the event itself and your brand by extension.
2) Event Positioning – Beyond awareness, the event must be positioned as "can't miss" among your key personas. These will include customers, prospects, key channel partners and industry influencers.
3) Drive Conversion Metrics – What to measure to gauge campaign effectiveness:
a. Event Registration Page Visits – How much traffic is driven by campaigns?
b. Registration Sign-Up Conversions – Broken out by Clients & ICP prospects
c. Virtual Event Attendees – Live vs. On-Demand Viewers (if applicable) with breakout by audience/attendee category based on your value system.
4) Create Engagement – Track pre-event, in-event, and post-event engagement broken out by business-specific objectives.
5) Impact Pipeline – Pre/In/Post-Event prospect meetings held and Sales Qualified Opportunities (SQOs) wholly or fractionally attributable to the event.
6) Revenue Attribution – Event impact on revenue metrics from new business to usage uptick from current clients/subscribers to deal velocity acceleration.
Our team will work to understand your objectives and set aggressive target objectives upon which the success of your virtual event marketing program will be gauged.
Setting the Virtual Event Marketing Strategy
How to go from virtual event marketing ideas to an executable plan and timeline…
Develop a Communicable Aspirational Goal
Whether you aim to be the go-to event for a niche industry segment or the premier source of thought leadership around a category, create and promote content that lives and breathes this goal.
Craft an Attendee-Centric Approach
Innovative events all start with a solid creative and promotional strategy built around a thorough understanding of target marketing values, needs and pain points. Use this knowledge to inform the Organizing Theme for your event. This is the key topic(s) that will attract and galvanize participation/attendance within your desired audience.
Executing Across Channels
Ledger Bennett builds a nuanced strategy fit for each client geared toward accelerating engagement with innovation and creativity through the entire campaign from strategy and concept to build and activation using a blend of media skills, content marketing expertise, marketing automation and media/performance marketing excellence.
We do this by engaging your target audience across a mix of key channels, within which we:
Convert the aspirational goal into an attendee value proposition, i.e., key benefits linked to your industry or brand to be gained from event attendance.
Sell the virtual medium, especially where virtual is replacing an in-person experience. While we all now hate the term 'new normal' that's what virtual events have become. We'll position your virtual event as "can't miss" for your audience – just like in-person events which may have preceded.
Communicate opportunities for education, networking and/or personal development as applicable within and around the virtual event.
Engage with strong messaging and media presence around your key theme or specific topic(s).
Grow relationships with virtual event attendees through post-event engagement.
Applying the Human Touch in the Virtual Domain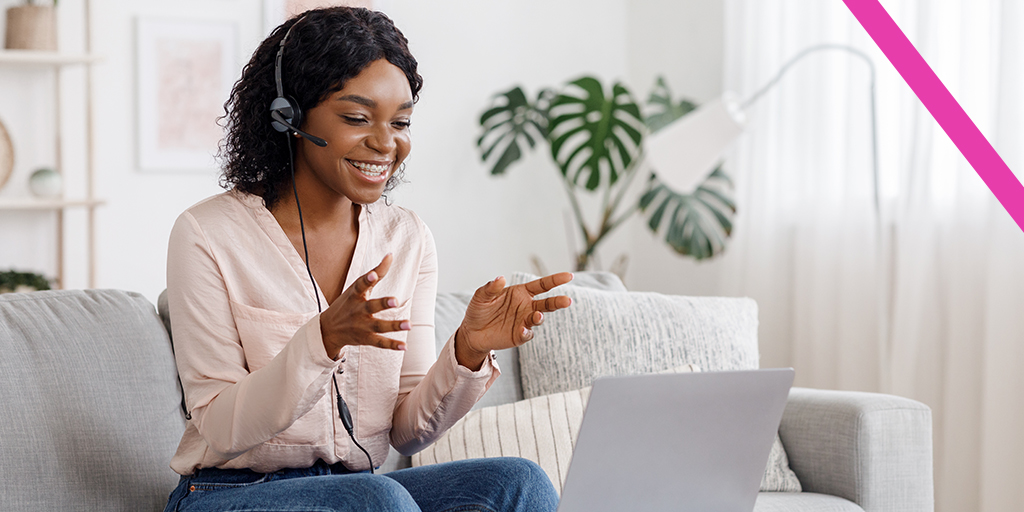 Ledger Bennett find success within our approach by striking the right balance between people and technology across campaign creation and execution.
Problem solving and innovation, technical skills, hard work, collaboration and strong project management all play a vital part in the success of any program, not to mention the strong working relationships we establish with each client around domain-level expertise and shared goals.
Here are some examples to bring this to life:
1) Problem Solving & Innovation:
Problem solving and innovation come in many forms. From concept and creative theme to project and timeline management, our team is accustomed to the short timescales associated with any flavor of event, meaning we know how to be agile about conceptualization and delivery.
2) Technical Skills:
Virtual event marketing campaigns require a comprehensive blend of skills, most coming from within Ledger Bennett. From up front audience understanding, strategy, creative and copy to the build of content, media and email assets through to activation of triggered emails, paid media, paid social, registration plays and more.
3) Old Fashioned Hard Work:
Getting things started and getting them done on time is about rolling up your sleeves and putting in the hours. Once our approach and initial strategy are approved, we work expeditiously to get in market – call it MVP. We make maximum effort to give clients work to review and the opportunity to launch faster. From that point on every member of the team own their part of the campaign with accountability to meeting the requisite objectives set.
4) Collaboration:
Campaigns don't succeed without it. From outset to post-event regular client check-ins are scheduled. We set clear goals for each meeting and establish open communication around what's been accomplished and what needs doing. Ledger Bennett and our clients work as one team.
Intelligent Execution – Ledger Bennett's Event Play & Engagement Flow Methods
Implementing and managing the strategic plan while overcoming inevitable challenges to ensure campaign success.
Central to intelligent execution are Ledger Bennett's Event Play & Engagement Flow, ensuring all our team members maintain alignment around phase-specific objectives, such as:
1) Maximizing Pre-Event Engagement & Registrations
2) Driving In-Event Live Attendance, Participation & Content Consumption
3) Capitalizing on Post-Event Momentum & Driving On-Demand Consumption
Pre/In/Post-Event Approach to Campaign Management
Pre-Event Marketing Mix Example –
Pre-event comms include triggered emails, paid media promotion (LinkedIn, Facebook, Google Search, Display Ads) and paid social (LinkedIn, Elevate, Twitter) to drive our audience to register.
Promotional assets created by Ledger Bennett will often include Key Event Engagement Page(s), elements for the event registration page video, blogs and sales tools.
We also create content and other deliverables for the client's owned audience, such as Marketing Automation email campaigns, sales outreach emails, email 'newsletter' copy and other creative to be used within the client's website and other online assets.
In-Event Communication Examples –
Virtual Event Marketing Timeline – Event week and Intra-Event communications such as:
'On the Day' email reminders
Attendee Thank You emails
Intra-Event Email Content Prompts to Re-Engage No-Shows. E.g. "The Next Keynote Starts in 5 Minutes…"
Turn your on-the-day experience into an always-on experience with downloadable, on-demand, and interactive content. For Example: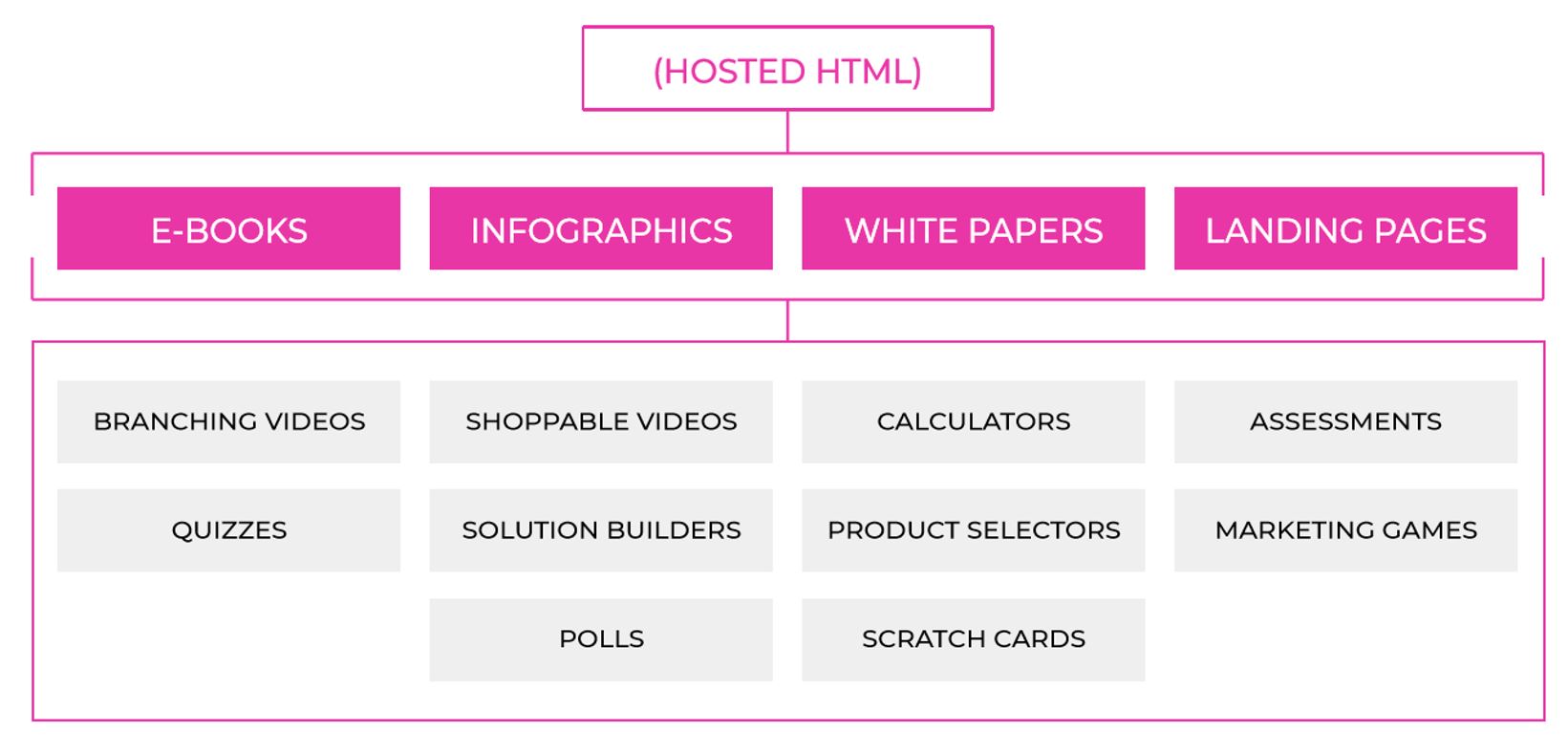 Post-Event Engagement Approach –
You've made a meaningful time and monetary investment in your virtual event, and it's vital the journey continues after it ends.
We continue promoting On-Demand content, usually for another month, to those who registered but didn't attend, to those who attended but abandoned, and even to those who were fully engaged to whom we want to suggest other content and session highlights they may have missed.
Not to mention using the opportunity to promote what comes next, whatever that may be for you.
Smart Media Management
Our media management approach and execution strategy are conceived and continuously optimized to showcase your event's customer-centric experiences, educational benefits, and more in a manner aligned with your larger business goals.
A typical media schedule will include deployments and methodologies such as:
LinkedIn Sponsored Content, InMail, and Facebook to drive event registrations
A LinkedIn strategy to target persona audiences, look-alikes, Account Based Marketing (ABM) lists, and other methods while optimizing for quality over quantity in registrations
Facebook targeted look-alikes of Key Account Customers, to drive registration volume from Ideal Customer Profile (ICP) prospects/personas/orgs.
A test-and-learn approach to utilize historical virtual event lessons learned in order to further optimize and engage your audience on subsequent events.
Tracking Success of Your Virtual Event
Here's where those target objectives are weighed against actual performance to answer that pressing question those in charge of budgets want answered: "Are virtual events effective?"
Key Performance Indicators to Measure:
Target Registration Page Visitors vs. Actual Registration Page Visitors
Target Event Registrations vs. Actual Event Registrations
Target Attendance vs. Actual Attendance
The registration numbers can, and usually should, be broken out to create separate metrics for customers, known prospects, new ICP prospects and other meaningful segments in order to gauge the true effectiveness of event promotion and develop, or measure against, virtual event attendance benchmarks to use going forward.
It can also be useful to measure campaign metrics to inform future optimization, such as the following where applicable:
Typical Awareness-Level Metrics:
Social Media Impressions & Engagement Rate
Paid Media Impression & Click Metrics
Email Open Rate & Other Engagement Metrics
Typical In-Event Engagement Metrics:
Peak Login Volume / Attendance
Total Net Attendees
Total Content Consumed / Collateral Downloads
Average Time Spent
Average Number of Sessions Attended Per Attendee
Average Number of Virtual Booths Visited Per Attendee
Total Virtual Tradeshow-Floor Chats
Number of Social Media Posts Using Event Hashtag (and Engagement with Those Posts)
Typical Post-Event Conversion / Success Metrics:
Attributed Inquiries
Short-Term Marketing Qualified Leads (MQLs)
MQL to SQL Rate
Conversions from key target accounts / ICP accounts
Cost per virtual event attendee
Short-Term On-Demand Event Content Consumption
Attributable Revenue Impact
Do Virtual Events Work?
Our clients certainly think so… We've helped drive tens of thousands of virtual attendees to B2B marketing events spanning industrial verticals as well as event-type preferences resulting in millions of dollars in attributable revenue impact.
Your Virtual Conference will generate and provide you with a huge amount of data. Across our clients we seen on average:

Planning a virtual event of your own? Contact Ledger Bennett to learn more about our proven IPMA-recognized virtual event marketing agency approach.